MEAL PROVISIONING - SOME TIPS (AND LIST!) FROM OUR BOAT TO YOURS
Sep 12, 2018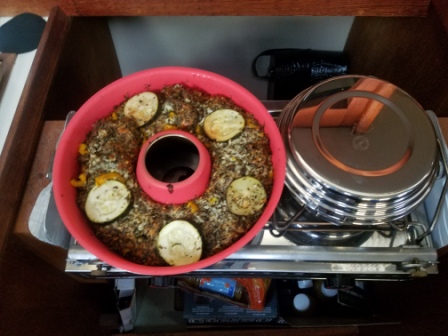 My wife and I recently spent a week on our sailboat (8/18-8/25/2018). One of the challenges was determining what we wanted to do for meals while on the boat. We sat down one evening and discussed what meals we were going to cook.  Once we knew what we wanted to eat, we started making the ingredients list.  This list allowed us to make the grocery store list for the items we didn't have at home. Since we don't live on our boat full-time, we don't keep many staples or spices on it, which means we had to bring everything to the boat.
Below is a list of things that we came up with for our meal selection. Your meal preference will be different from ours, but it will give you an idea of the process we went through to develop everything that we needed for the week. I have made a list using checkboxes, so if you use this list, you can check off the items as you buy or pack the things you will be bringing to your boat. We knew we would eat three or four dinners and at least one breakfast on land, so we didn't need too many provisions. 
One of the tricks we used for spices was to combine all of the spices for a given recipe into a plastic ziplock bag.  For example, the Pull-apart pizza bread recipe calls for parsley flakes, Italian seasoning, shredded basil, and garlic powder. I measured out the recipe spice amounts and combined all of these spices into one plastic ziplock bag, and then labeled the bag with the meal name (i.e., Pull-apart pizza bread).  I also measured out the grated cheeses and combined those into a plastic bag as well.  It made the meal preparation go quicker by measuring the spices' amounts and cheeses ahead of time.
I will save this list as a starting point for what we will need the next time we stay on the boat for several days.  We can easily modify it and change the meal selections, but many of the items remain the same. I hope you find this helpful in your meal provisioning.
Meal Planning:
Pull-apart pizza bread (recipe):
Mix spices in a plastic bag
Put olive oil in a plastic container with a lid.
Spaghetti sauce
Pre-made Quiche - heat up in Omnia Stove Top Oven with rack.
Chicken tenders - cook on barbecue grill:
Chicken tenders
Mustard
Barbecue Sauce
Breakfast Items:
Cereal
Milk
Pancakes - cook in Boaties Frying Pan:
Pancake mix
Maple Syrup
Scone Mix - use Omnia Stove Top Oven with Silicone Liner:
Breakfast Burritos:
Whole wheat wraps
Egg whites (box)
Vegetables - peppers, onions
Shredded Cheese
Hot Sauce
Salsa
Salad Items:
Bag Salad
Dressing
Vegetables:
Carrots
Peppers
Other veggies
Fruits:
Bananas
Apples
Berries
Sandwich Items:
Bread
Peanut Butter & Jam
Tuna & Mayo
Hummus
Snacks:
Crackers & Cheese
Chips & Salsa
Please comment on this blog below if you have other suggestions when you are provisioning for your boat or shoot me an email at Steve@seadogboatingsolutions.com
Did you like this blog post? Share it below! What are your favorite boat meals?
Please let us know if you find this post helpful. Contact Us Here if you have any questions.