Boat Transport Service / Hire a Deckhand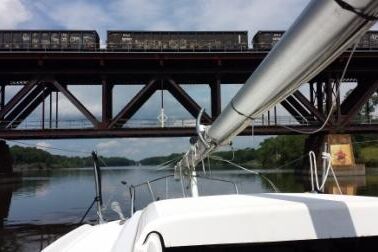 Boat Transport Service:
"Steve arrived with his gear, navigation aids, and charts. He was very knowledgeable, competent, personable, and completely "upfront" regarding all laws and regulations about our arrangement. Steve and I hit it off from the first.  After our time together, I consider him a true friend. I have full confidence in Steve and would trust him at the helm of any craft."
 Marvin M.
Do you need an extra crew member to transport your boat on Lake Champlain or the Hudson River?
Do you need assistance going through the Champlain Canal System / Locks?
We are available to assist you with the following waterways:
Lake Champlain
Champlain Canal System
Hudson River
Richelieu River - Chambly Canal
Other waterways are a possibility
We can help you with transporting your boat on the water:
from one location to another
or if you are looking for an experienced crew member for part or all of a journey
Services we offer:
Docking
Leaving the dock
Traveling through locks
Helping you get comfortable with your boat
Mooring and anchoring practice
Driving the boat/sharing shifts
Lookout on deck
Installing sails
Assistance with raising/lowering mast
Loading/unloading items (supplies, luggage, etc.)
Help setting up your electronics:

Setting up and using ActiveCaptain software.
Creating waypoints
Setting up Man Over Board (MOB)
What people are saying about us:
"Steve's knowledge of Lake Champlain and the Champlain Canal locks was invaluable. Having lived in upstate NY, his knowledge of that area enhanced our enjoyment of the sights and stops along the way. While Steve was prepared to "fend for himself," he was very comfortable joining Donna and I as "part of the family," joining us for meals, casual conversation, and touring stops along the way. It was great having Steve on board, specifically on two occasions; when our engine overheated and when our mast was stepped at Hop-O-Nose Marina. In both, Steve knew what needed to be done to diagnose and complete the necessary work. Overall, I have no hesitation recommending Steve to others who want an extra set of hands aboard for an extended cruise or boat delivery. Not only will you get a good crew member, but you'll probably also become friends." Ken and Donna
Pictures: