NAVIGATING YOUR TIME EFFICIENTLY AT A BOAT SHOW
May 05, 2019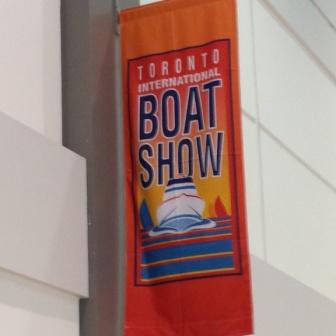 When you attend a boat show, do you wish you could use your time more efficiently while at the show?  Do you wish you had talked to specific vendors at the end of the day, but you ran out of time? Do you find out about a product or vendor after the fact and wish you had known about it before the show?
We attended the 2019 Toronto International Boat Show on Saturday, January 26, 2019. I was made aware of a phone App for the show from the boat show website and was sent an email about it since I am on the mailing list for the show (Captain's Club).  I downloaded the FREE App (myShowAPP - available for Apple and Android devices) onto my Smart Phone and started experimenting with it. WOW, was I impressed!
This phone app allows you to plan out your time at the show by knowing who is at the show and what classes are available on the day(s) you will attend. You can set up your FAVS (Favorites) for Exhibitors that you want to talk to, and you can create an agenda, called myAgenda, for the seminars/classes that are of interest to you.
Here are some of the App Features: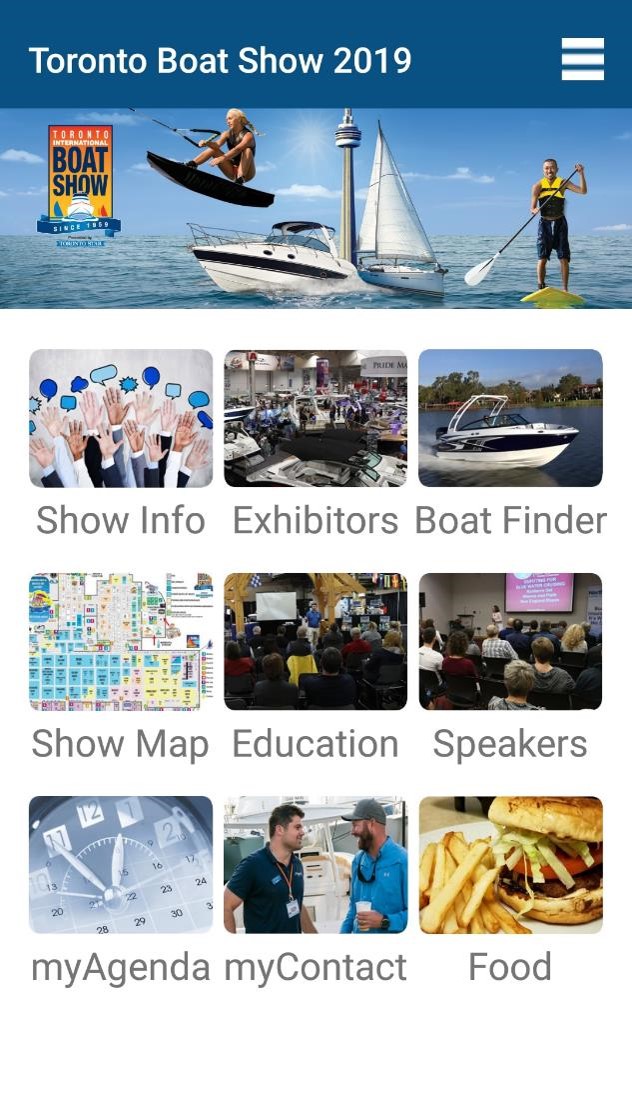 Show Map - allows you to see the entire show floor plan with booth numbers
Exhibitors - List of Exhibitors who can be viewed by Category,
Click on the Exhibitor, which contains the following information:

Booth #
Categories - lists details about what they carry or do (a vendor might be under multiple Categories)
VIEW ON MAP button - shows the location on the show map
ADD TO MY FAVS button
Show My Favs Only - view the Exhibitors that you added to your Favs List
Website link for the Exhibitor

Education - A list of classes/seminars listed by Day and Time Slot with the following information:

Tracks - Different presentation locations within the show  and some categories
Description - details about the class
Location - Location of the course
Speaker - who is teaching the class
ADD TO MY AGENDA - button to add this class to your Agenda
REMOVE FROM MY AGENDA - button to remove a class from your Agenda

myAgenda - allows you to see the Seminars / Educational classes you added o your Agenda, so you know when and where to be for the class
        Note: Some of the above features require a connection to the Internet
I spent a couple of hours going through the Exhibitors list, looking to see what products they offered. I selected Exhibitors by Category, so I didn't have to look at every vendor attending the show. I clicked each Exhibitor under a Category and looked through their description to see if they had products of interest. If there was something I thought was interesting, I added them to my FAVS list. 
I also spent some time reviewing the Education classes for the day we would be attending the show. I used the ADD TO MY AGENDA button for the ones of interest to us.
When we got to the show, I had a Game Plan of the Exhibitors that I wanted to visit. By using this App, we were able to see the products that were of interest to us, and we also attended a couple of Seminars, which is something we had not done previously at the Toronto Show even though we had visited the show in 2017 and 2018. We were able to make the best use of our time there because of this App.
If you want to know what products we found interesting at the show, check out our 2019 Toronto Boat Show Product Blog.
I wish that all of the bigger boat shows would use this App or a similar one. What a great tool, and it saved us a ton of time at the show and made the whole experience more FUN!!!
I did a little research on some of the larger boat shows, and some do have Apps for their shows:
MyShowAPP: (www.myshowapp.com)

Toronto International Boat Show

Vancouver International Boat Show

Chicago Boat, RV, and Sail Show - uses 

Chicago Boat Show Pass – an interactive app. 

MyBoatShow App:

Fort Lauderdale International Boat Show® (FLIBS)

St. Petersburg Power and Sail Boat Show

The Yacht and Brokerage Show in Miami Beach

The Palm Beach International Boat Show

Suncoast Boat Show
I am sure I missed other shows that also use an App.  I hope that more and more shows start using an App in the future.
If you plan to attend a Boat Show that isn't on the list, contact the show asking them if they are using one of the Boat Show Apps (i.e., MyShowAPP or MyBoatShow).  It would be worth the effort.
Did you like this blog post? Share it below!
Please let us know if you find this post helpful. Contact Us Here if you have any questions.