Kingii Wearable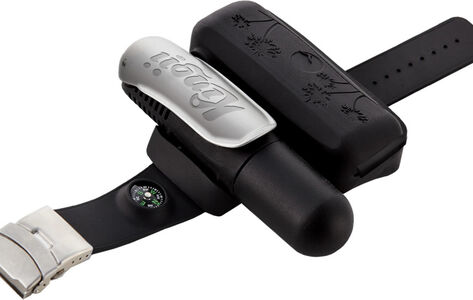 Option Selection:
Kingii Wearable Device:
$84.99
Reliable and Fun
Retail: $89.95
An invention that seemed obvious in retrospect
Kingii is lightweight and can be worn in and around water. Inside the device is a CO2 cylinder that is easily replaceable. You can use Kingii time and time again. If you love swimming, surfing, and water, you will love Kingii.
Kingii is the new wristband for all those who love water! If you need help to stay afloat, pull the lever, and an inflation bag will pull you to the surface.
Clearance Inventory: 3 (as of 10/26/2021)
Great for boating, swimming, surfing, and all water sports.
Pull the lever, and a balloon helps you stay afloat.
Sufficient for a 130kg /  285 lbs person
We recommend wearing a life vest.
Personal flotation devices like life vests that have been approved by official authorities like the US Coast Guards provide the best protection against drowning. Therefore, we also recommend wearing a life vest.
Kingii is not a personal flotation device, and it cannot replace a life vest. Instead, Kingii is a recreational water device that may provide additional buoyancy to the water safety equipment you already have.
 

Light-weight & powerful

The smallest inflatable in the world

Reusable - After usage, deflate the balloon, fold it and put it back into the pouch. Replace the CO2 cylinder carefully and the Kingii is ready to be used again.

Inflation Bag - the bright orange bag creates high visibility and its hexagonal shape makes it easy to hold on to and grip

Pull Lever - the User lifts the handle to release an internal CO2 cartridge which then immediately inflates the bag

Compass - always know where you are and how to get back on track

Wrist Clasp - Kingii comfortably fits almost any size wrist from young to old

CO

2

Cartridge - Reuse the Kingii with its easy to replace internal CO

2 

Cartridge

Bag Pouch - Silicon pouch holds the inflation bag and whistle in place and out of the way

Whistle - When the Kingii is inflated, you can use the whistle for extra visibility
Kingii Wearable

2 CO2 Cartridges

Manual