NO MORE LOST HATS - NO MORE HAT OVERBOARD (HOB) DRILLS
Sep 08, 2017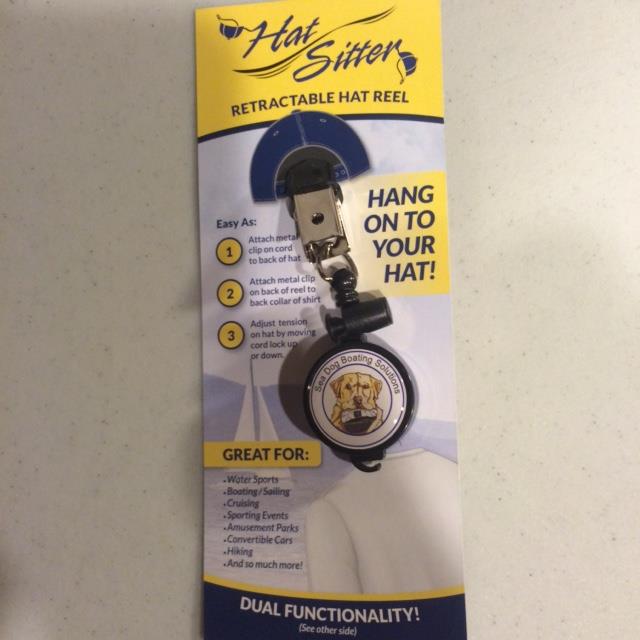 Have you ever lost your hat while boating? If you're like most boaters, the answer to that question is a resounding YES!!! 
I found a great device at the New England Boat Show called the HatSitter, which solves this problem.
The HatSitter prevents you from losing your hat if the wind blows it off your head, AND it can "hold" onto your hat hands-free when you're not wearing it.
How many times have you had the wind blow your hat off?  I know we have done many "hat overboard" drills on our boat. Sometimes we were successful in recovering the hat before it sank, but not always. I have many hats that I am sentimentally attached to, especially those I bought as souvenirs while traveling. I hate to lose one of those hats since it would be hard to replace, if not impossible.  Would you be willing to ensure that you never have another hat go overboard? The HatSitter keeps your hat from blowing overboard and is like a leash for your hat.
Use the HatSitter for:
Water Sports
Boating & Sailing
Cruising
Sporting Events
Amusement Parks
Convertible Cars
Hiking
and so much more!
There are also times when it would be convenient to have a way to hold onto your hat when you're not wearing it.  Recently I went on vacation where I visited many churches and had to keep removing my cap. Sure, you can stuff your hat into a backpack or a bag, but you don't want to crush your hat.  You might also set the cap down and then forget to bring it with you when you leave.  The HatSitter solves this problem by "holding" onto your hat, so you don't have to, leaving your hands free to do other things.
This video shows you the dual uses of the HatSitter:
Did you like this blog post? Share it below!
Please let us know if you find this post helpful. Contact Us Here if you have any questions or comments.