HatSitter - a hat/cap retainer, keeper or leash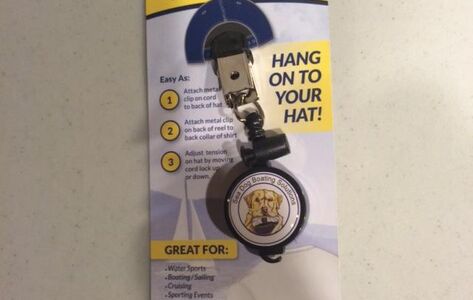 Option Selection:
Have you ever lost your hat while boating?
Well, if you are like most boaters, the answer to that question is a resounding YES!!!
I have found a product that solves losing your hat while boating. Check it out!
HatSitter - A 
Retractable Hat Reel
Dual Functionality
Two functions  - one product!
Securely retains your hat if the wind blows it off!

Securely retains your hat "hands-free" while you are not wearing it!
HatSitter can be used for:
Water Sports
Boating/Sailing
Cruising
Sporting Events
Amusement Parks
Convertible Cars
Hiking and Camping
and so much more!
The HatSitter is also known as a Hat Retainer, Cap Retainer, Cap Leash, Hat Keeper, or Hat Clip.
HatSitter - A Product of Damsel Enterprises LLC
Metal clips have a heavy nickel plating that has been tested in 5% saltwater immersion for a minimum of 48 hours

Reel:

Reel spring is cold rolled SUS301 grade heat-treated Stainless Steel

The reel is sonically welded around the entire circumference

Reel diameter = 1.14 inches (29 mm)

The cord is polyester based and 21 inches long
Dual Functionality: