WE LOVE QUEBEC: OUR WINTER GETAWAY 2017
Apr 07, 2017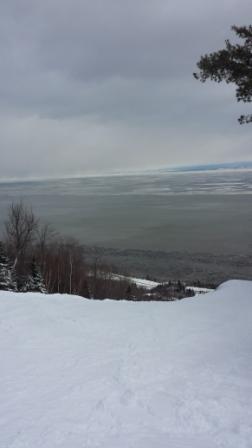 Quebec Winter Getaway
We recently visited the Quebec City area from Tuesday, March 14 through Sunday, March 19, 2017.  Our trip was dual purpose where we wanted to get in a few days of alpine skiing and watch the Nordic World Cup competition taking place Friday - Sunday at the Plains of Abraham (Plaines d'Abraham) in Quebec City.
We drove up to Quebec City from northern Vermont on Tuesday morning.  We left early since that was the day of the big storm (Winter Storm Stella) moving up the eastern coast of the US and into Canada. We had safe travels the entire way and arrived ahead of the storm, which was our plan, and it worked out well. We stayed in a beautiful condo near Mont Saint-Anne.
We were able to ski on Wednesday at Mont Sainte-Anne but were limited to skiing in the afternoon since there were high winds in the morning from the storm.  We had about two feet of fresh powder to ski on from the storm, so we had excellent conditions.  On Thursday, we headed a little further north and drove up to Le Massif de Charlevoix and had a fabulous ski day there. The views from Le Massif are breathtaking, with the St. Lawrence River in full view.  I always feel like we are going to ski right down into the St. Lawrence River.  It is so beautiful.
On Friday, we switched gears and drove into Quebec City to watch the Nordic (Cross Country) World Cup Finals.  We have been in the city in the past, but we had not visited the Plains of Abraham. What a beautiful venue for the World Cup Finals.  Our oldest daughter's boyfriend, Jack (John) Hegman, was racing for the United States in his first World Cup event, so it was extraordinary for us to see him compete in this incredible event.  I know that the hometown boy, Alex Harvey of Canada, had many fans come out all three days of the event.  Many people watched the event from all over the world, and of course, many Canadians there cheering for Alex Harvey. We attended all three days of the races and had a great time!
We appreciated how close the restaurants were to the event (within walking distance), and we enjoyed the excellent food and beer available in the city.  It was a short vacation, but we made the best of it and could accomplish all of the things we set out to do. The weather was great on Friday through Sunday, and we had mild temperatures with sunshine all three days. I would tell anyone who is looking to get away to check out Quebec City. It was about a five-hour drive for us from northern Vermont. There are so many things to see and do, and of course, the food is incredible.
We are looking forward to our next trip back to Canada soon.
I would love to hear any comments you might have. Please let us know what your favorite activity or place to visit is in Quebec City.

Did you like this blog post? Share it below!