WATCHING THE 4TH OF JULY FIREWORKS FROM OUR BOAT
Jul 08, 2015
Like many other boaters, we watched the 4th of July fireworks from our boat.  We had our friends out for a sail and had dinner on the vessel on Friday, July 3rd.  As we sat and waited for the fireworks to start, we just enjoyed the beautiful evening and the company of our friends.  We watched the Burlington, VT fireworks from Mallets Bay and were able to see the fireworks very clearly even though we were a long way from Burlington on Lake Champlain.  Once the fireworks were over, we headed back to our mooring at the Mallets Bay Boat Club.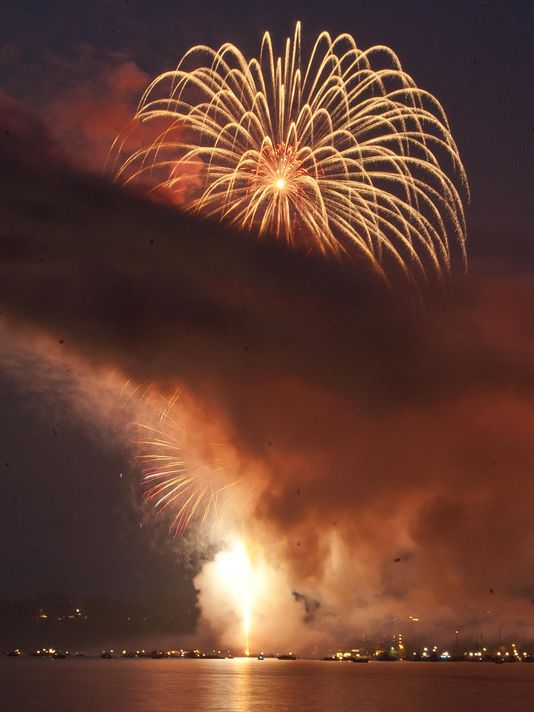 It was dark at this point, of course, and I pulled out our GoalZero Torch 250 flashlight that has a red light feature. This red light worked great to look at instruments and even go down into the cabin, looking for things.  The red light helps to preserve your night vision, so as you are navigating across the water, your eyes don't have to readjust to the nighttime light levels.  I love this light!  It is also beneficial to have others on the boat using this light since if they are using "white" light and accidentally flash the white light towards you, you lose your night vision and are temporarily blinded. My daughter gave me this light as a Christmas present this past year, and it has turned into my favorite flashlight on our boat!
 As we neared our mooring field, I turned off the red light feature and turned on the flashlight's spotlight feature.  Our friend took the torch up to the boat's bow and helped me see marker buoys, other vessels, and the dreaded Hazlett moorings that are easy to miss at night as I navigated through the mooring field.  The spotlight was very bright and helped me quickly and safely bring our boat to our mooring. 
We had a wonderful evening with friends and enjoyed a fabulous dinner and enjoyed the fireworks.  There is nothing better than getting out on the water and enjoying the evening and returning safely at the end of the evening.
I hope you all enjoyed the 4th of July holiday as we celebrated Independence Day for our country.
Did you like this blog post? Share it below!