SPRING BOAT PREPARATION AFTER WINTER STORAGE
Mar 22, 2017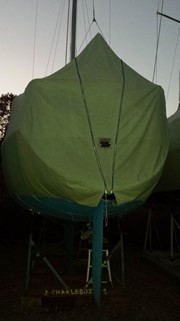 This article is for you if you live somewhere where you store your boat over the winter months.
We live in the Northeastern United States in Vermont and store our boat on the hard from late September through mid-May.
Here is a checklist of boat work items that we do annually after winter storage:
Remove the winter cover/frame.
Install boat registration stickers
Return the following to the boat:

Safety Equipment:

PFD's
Throwable(s)
Flares
Life sling/horseshoe throwable
Fire extinguisher(s)
Handheld VHF
Binoculars

Brass clock
Compass
Anchor Rode
Boat grill, cover & tools
Electronics power pack

Install Davits for dinghy
Freshwater system:

Reconnect the hot water tank
Reconnect fresh water lines to the storage tank(s)

Install the boat batteries:

Charge
Test bilge pump(s)
Test bilge alarm (plus any other alarms)
Test navigation lights
Secure tie-down straps
Install solar panel(s)

Check engine over:

Check impeller, replace it if necessary.
Buy spare impeller
Check engine fluids & change as needed (oil, transmission fluid, anti-freeze, etc.)
Install engine raw water filter basket

Replace stuffing box seal (every three years)
Paint bottom (every 3-4 years)
Set up the anchor
Clean Bilge
Wash, remove oxidation and wax the boat.
Install dodger frame and dodger
Install bimini frame and bimini
Install sails
You may have other work items on your vessel, depending on the different systems and electronics you may have on your boat. This list should give you a good starting point.
Please comment on this blog below if you have other things that you do to your boat in the spring after winter storage, or you can shoot me an email at Steve@seadogboatingsolutions.com
Did you like this blog post? Share it below!
Please let us know if you find this post helpful. Contact Us Here if you have any questions or comments.