NEED A SHEET SET FOR YOUR V-BERTH?
Apr 19, 2015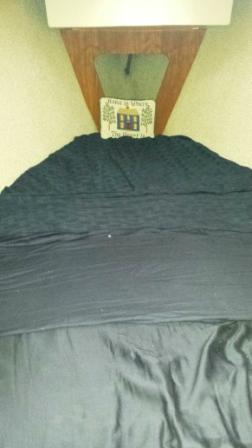 Are you looking for a sheet set for your boat V-Berth?  I have found a great product with a fitted sheet that cinches up to keep it in place.  No more having the sheets come loose in the middle of the night to get all wrapped around your feet.  The tapered top sheet fits nicely over the cushions as well, so you don't have tons of material to tuck in under the cushions/mattress.  I have tested these sheets, and we own the navy sheet set. I am impressed with the sheet set quality and how well they cinch up to fit the V Berth cushions snugly.
10/26/21 We no longer are offering the Quahog Bay Bedding Products. Please contact Quahog Bay Bedding directly.
Information from the Press Release:
The newly offered boat bedding features a new fitted sheet design that cinches fully around the boat cushions to ensure a perfect fit even when oversized, which has allowed the company to create two Universal V-Berth Sheet Set sizes.  One set fits V-Berths of all sailboats under 40 feet in length and smaller motorboat V-Berths. "Universal sizing makes ordering boat sheets simple for customers and provides them with an affordable alternative to custom sheet sets," McLeod said.  "Our customers have been delighted with how comfortable the sheets feel and not having to crawl down to the foot of the V-Berth to tuck in extra sheet material each morning."
Both sizes of Sheet Sets come in six (6) different colors: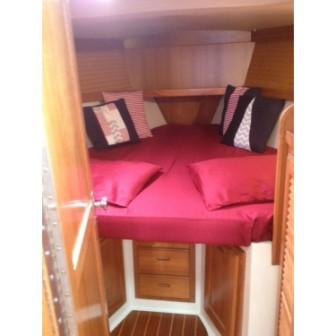 Grey
Light Blue
Ivory
Linen
Navy
White
Check out the Universal V-Berth Boat Sheet Sets:
Regular Size V-Berth Boat Sheet Set

X-Large Size V-Berth Boat Sheet Set
Each of the above web pages has a diagram showing the dimensions for the V-Berth (i.e., foot, head, and length) so you can determine if these sheets will fit your V-Berth.
If the Regular or X-Large Sheet Sets do not fit your V-Berth, we now offer a Custom V-Berth Boat Sheet Set.
We also offer a V-Berth Blanket.
Please Contact Us if you have any questions about the Universal Sheet Sets, Custom V-Berth Boat Sheet Set, or the V-Berth Blanket.
Steve@seadogboatingsolutions.com
(802) 734-3389
Did you like this blog post? Share it below!