MY 3 FAVORITE TOOLS FOR ELECTRICAL WIRING JOBS
Nov 10, 2016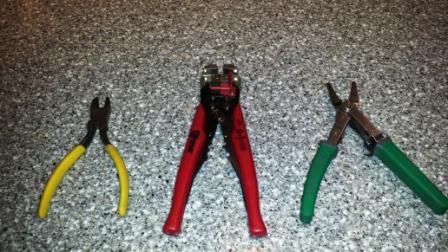 Make any electrical wiring job go smoother and quicker!
Here are my three favorite electrical wiring tools that I use for any wiring job. The three tools are:
Wire cutters
Wire strippers
Wire crimpers.
These three tools make any wiring job easy with high-quality results. I include a short video showing how easy it is to cut a wire,  strip the ends of a wire, and add connectors to each end with a crimping tool. You will agree with me on how easy and quick it is to do electrical wiring work when the "right tools for the job" are available.  
I spent some time looking for an excellent crimping tool that I could use with one hand while holding the wire in the correct position inside the connector with the other hand.  I found this crimping tool at our local Home Depot store, and it wasn't that expensive.  This crimping tool is so much better than when you try to crimp the connector/wire between the handles.  I never liked that crimping set up, which was very awkward, and the resulting crimp was not that good, and many times I had to start over since the wire would pull right out of the connector.
 Where I purchased the tools:
Wire cutters - I don't remember.  I have had these for a very long time.
Wire strippers - Radio Shack (Kronus tool - same as Neiko 01924A tool)
Wire crimpers - Home Depot (Commercial Electric)
I would be happy to answer any questions you might have regarding the tools.  Send me an email at Steve@SeaDogBoatingSolutions.com if you have any questions.
If you have an electrical wiring job that you are not comfortable doing, check out Sea Dog Boating Solutions, LLC Services
Did you like this blog post? Share it below!
Please let us know if you find this post helpful. Contact Us Here if you have any questions or comments.