LOOKING FOR A NEW ANCHOR?
Apr 10, 2020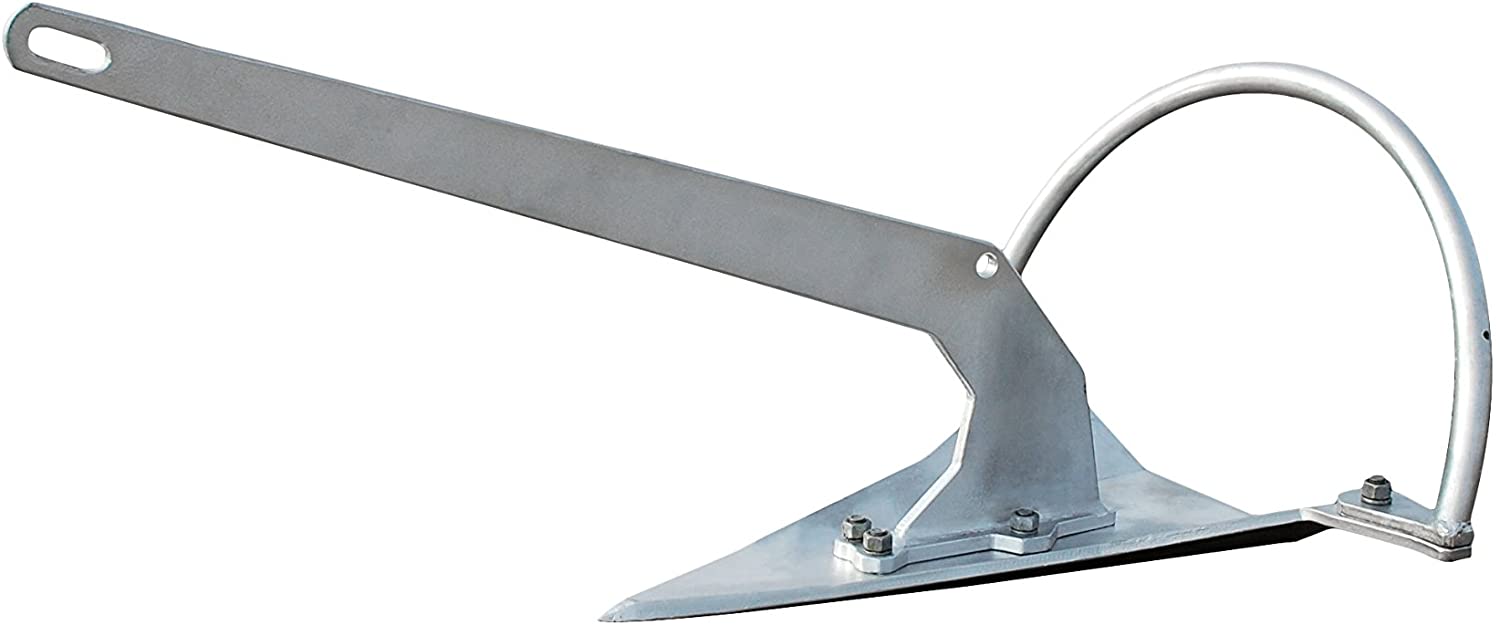 How and why we updated our anchor and tackle
Have you ever had problems with a dragging anchor? Like many boaters, we have dragged anchor on a few occasions, which always involved exciting moments. I always felt that our anchor for our O'Day 31 was undersized, and our anchor rode needed some improvements as well.
We had two different anchor types come with our boat, a fluke type anchor and a plow anchor with the swivel joint (CQR). We wanted to improve our holding power when looking for a new anchor. We looked at the different types of anchors on the market, researched, and decided to go with a scoop anchor, and the two most popular brands were the Mantus and Rocna. 
We contacted Mantus and asked them which anchor weight we should get. They talked with us and asked several questions, such as how would we be using the anchor?
Day Anchor
Cruising Anchor
Storm Anchor
They referred us to their website, which contains a lot of information and is a great resource. Mantus has an anchor sizing web page based upon boat length and weight and is worth checking out. Our boat, which we use for cruising, is an O'Day 31 and weighs 10,000 pounds. We don't have a winch on our vessel, so this was one factor in determining our anchor size/weight. Based on the information on the Mantus website and after speaking to a Mantus employee on the telephone, we decided to go with the 25-pound Mantus M1 anchor. After looking at this anchor's dimensions, I was worried that it might not fit on our bow roller. Mantus emailed me an actual size template for the anchor, which I printed out and taped to a cardboard piece and cut out the pattern. I used the template to check the anchor fit on the bow roller. The "tip" of the anchor was going to be too close to the bow. I phoned Mantus back and described my concerns. They told me about the Mantus AnchorMate product, which will mate an existing bow roller with an anchor of any design. With the AnchorMate product, we fit the 25 pound M1 anchor on our boat with our existing bow roller. I was relieved because I didn't want to downsize the anchor or replace the bow roller since we use the anchor for cruising and wanted more holding power.
 During our research, we also determined that we needed to improve our anchor rode. We had approximately 20 feet of chain with 200 feet of line. The research that I saw indicated that the chain length should be at least our boat length, so we extended it to be 31 feet long. The extra chain gives us more weight to stay on the bottom when anchoring, and our line is less likely to get chafed.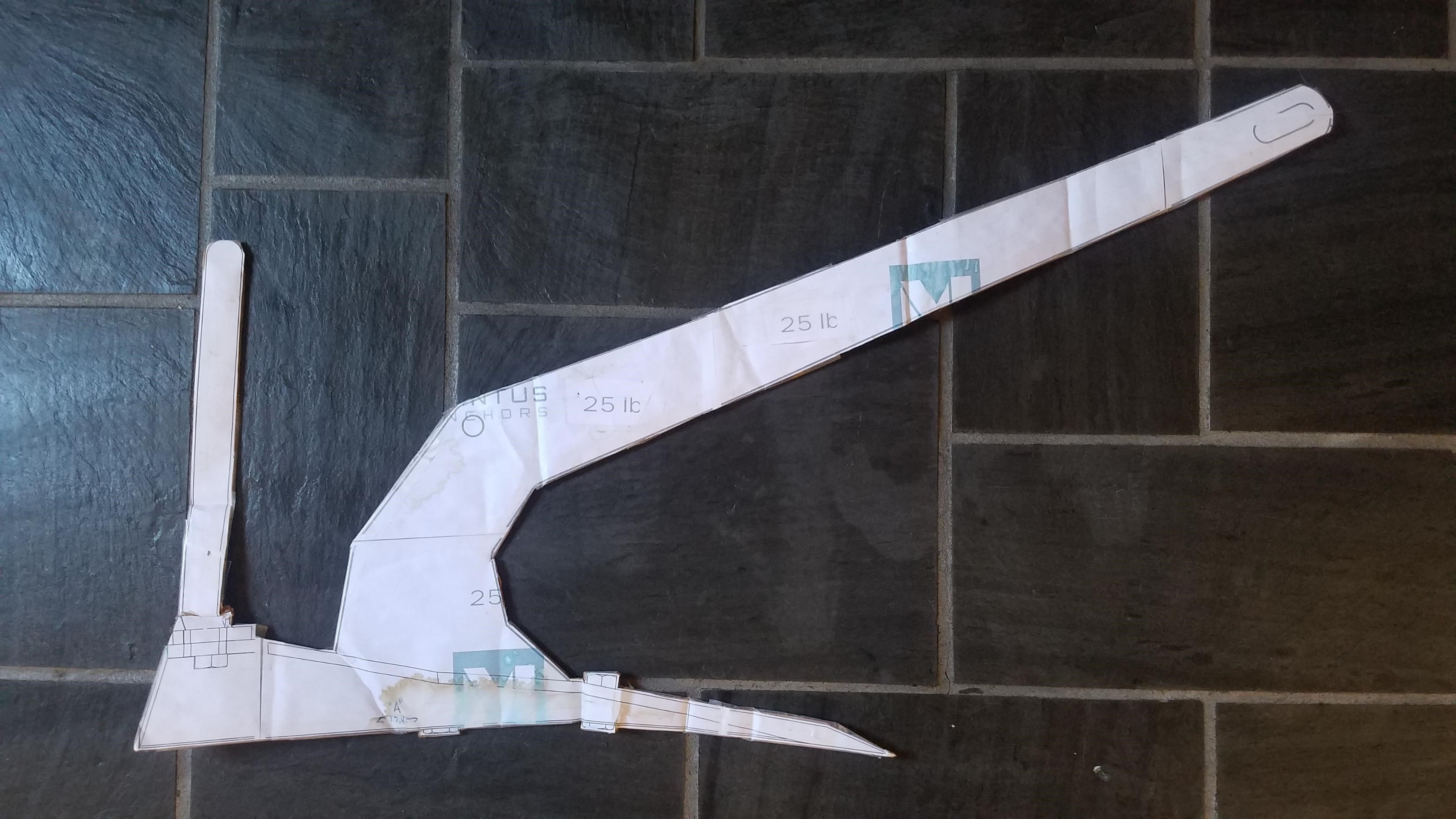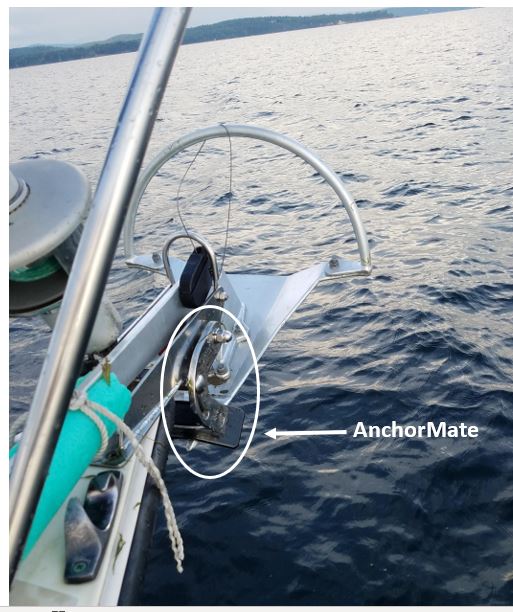 We have tested and used our Mantus anchor several times now and are very happy with it. On our first use of our new anchor, we used the anchor as a day anchor. It turned out to be a good test case because a small storm came through, and the wind went through a 360-degree wind shift over about an hour. The anchor held well during this period as far as we knew. If the anchor did pull loose, it quickly reset, and we felt secure the entire time. When we left the anchorage and were pulling up the anchor, we learned that the anchor held well because it had dug into the bottom.
The next good test case for our anchor was in Willsboro Bay, NY. We headed down to Willsboro Bay from Malletts Bay, VT, and spent the night. We anchored at the south end of Willsboro Bay with a North/Northwest wind blowing 10-20 knots with 2-3 foot waves all night long even though the forecast was for calm winds. We had 30 feet of chain with about 95 feet of rode, which gave us 125 feet total scope, and we were in about 20 feet of water (approximately a 5:1 scope). The boat was bouncing all night long due to the waves and wind, but the anchor performed well, and we did not drag. We had our anchor alarm set on our GPS, and I was able to see our "tracks" as we swung back and forth all night on our anchorage.
We are thrilled with our new Mantus anchor and improved rode. As we all know, when anchoring overnight, it helps to have confidence in your anchor equipment and to ensure that the anchor gets set solidly. Anything that we can do to remove fears about the anchor dragging at night is welcome and allows boaters to have a better night's sleep.
We would love to hear about any anchoring stories you may have.
Did you like this blog post? Please share it below!
We would love to hear your feedback. Contact Us Here if you have any questions.