NEED HELP TRANSPORTING YOUR BOAT ON THE WATER? CHECK OUT OUR LAKE CHAMPLAIN BOAT TRANSPORT TRIP.
Apr 17, 2019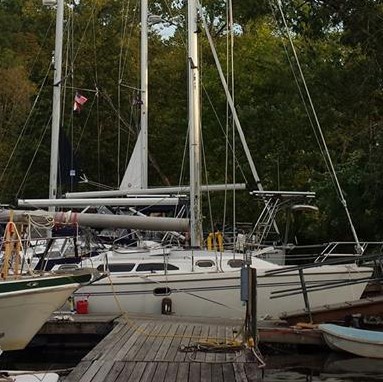 I spent about a week with Ken and Donna on their S/V Catalina 350 "Reverie," helping them bring their sailboat south from Malletts Bay, VT to Virginia. I traveled with them on their northern leg from Malletts Bay, VT down to Poughkeepsie, NY. Our journey consisted of boating down Lake Champlain, the Champlain Canal, and then down part of the Hudson River. They had other friends and family members join them on different parts of the trip.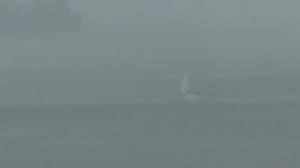 On the first day of our trip, we encountered some heavy fog out on Lake Champlain's broad lake just after leaving Malletts Bay.  I had never experienced fog this heavy on Lake Champlain before. I asked Ken to use one of his navigation routes for going down to Burlington, Vermont, to make sure that we stayed away from any land or hazards. Using an existing GPS route allowed us to stay safe since it was tough to tell which direction we were going in the fog without our usual landmarks.  The fog was very disorienting. By the time we were getting near Burlington, VT, the fog was starting to clear.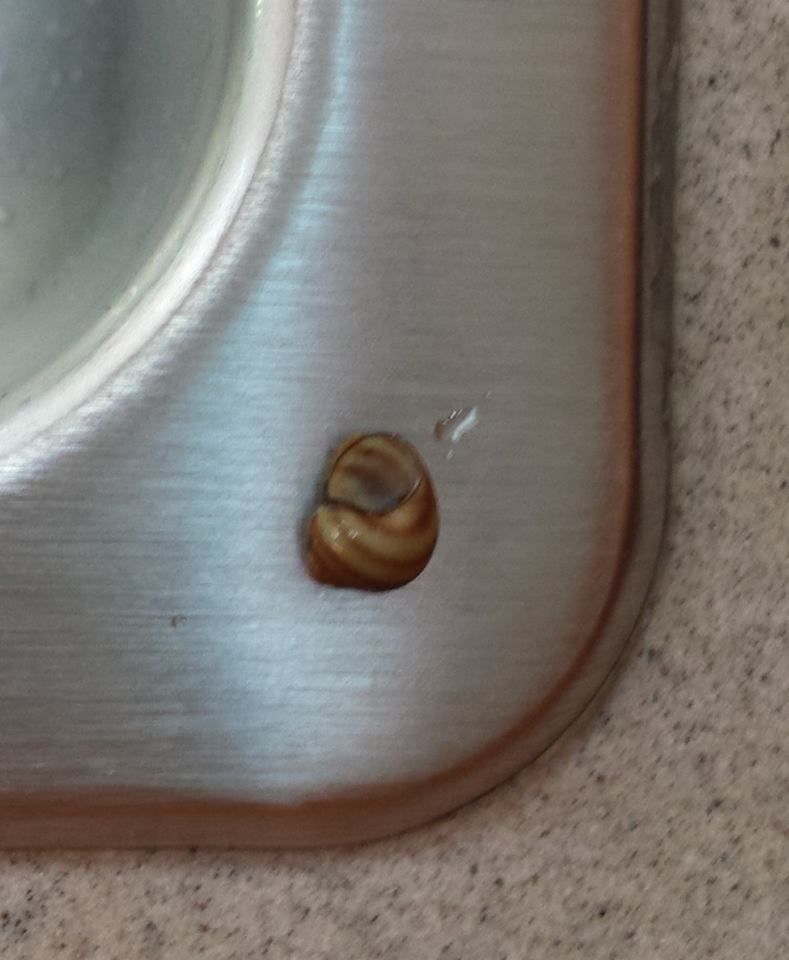 On the second day of our trip, we had an exciting moment after going through the Champlain Canal's first lock (lock # 12). We had just come out of the lock going south, and the engine temperature alarm sounded. We quickly turned around and tied up at the municipal dock in Whitehall, NY. We turned off the engine and then proceeded to debug the problem.
We found something in the freshwater intake right before the filter. We had a small snail stuck on the screen in the fitting before the raw water intake filter. We picked up this little "friend" while we were in the lock and had the engine running. Once we removed the stowaway, everything was fine.
Here is a picture of our little "friend." Who knew something so small could create such excitement.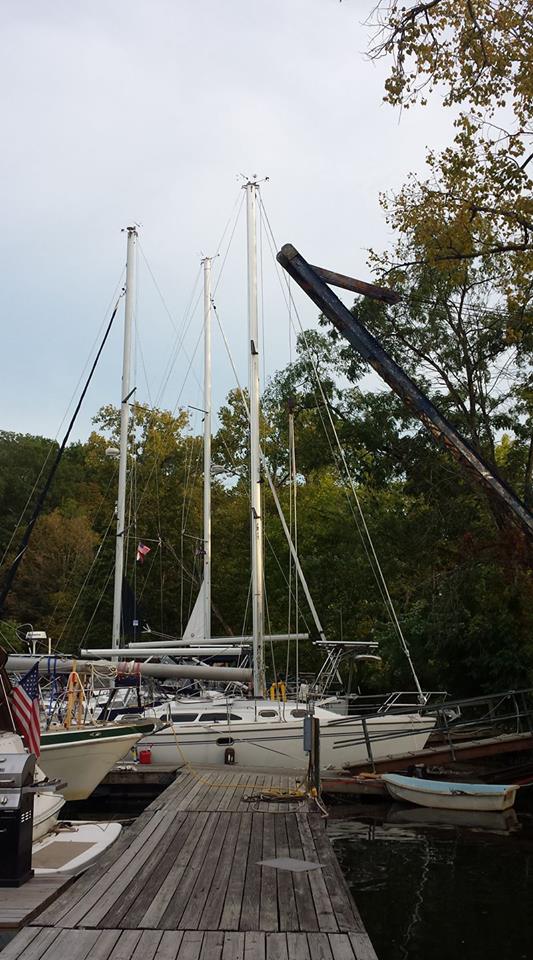 The next two days were uneventful as far as emergencies or excitement went, so that was nice. We finished going through the rest of the Champlain Canal locks and went through the Federal lock at Troy, NY. We traveled down the Hudson River to Catskill, NY. On Wednesday, 9/20, we were in Catskill, NY, at the Hop-O-Nose Marina. The boat had the mast stepped at this marina, so "Reverie" is a sailboat again.  It had been an incredible adventure so far, and I was enjoying the trip.
I am very familiar with this are since I used to live here 20 years ago. It was great to see all the towns from the Hudson River, which I never had the opportunity to see when I lived down there.
We were heading down the Hudson River the next day, and we will hopefully get in a sail to test out the mast, the sails, and rigging.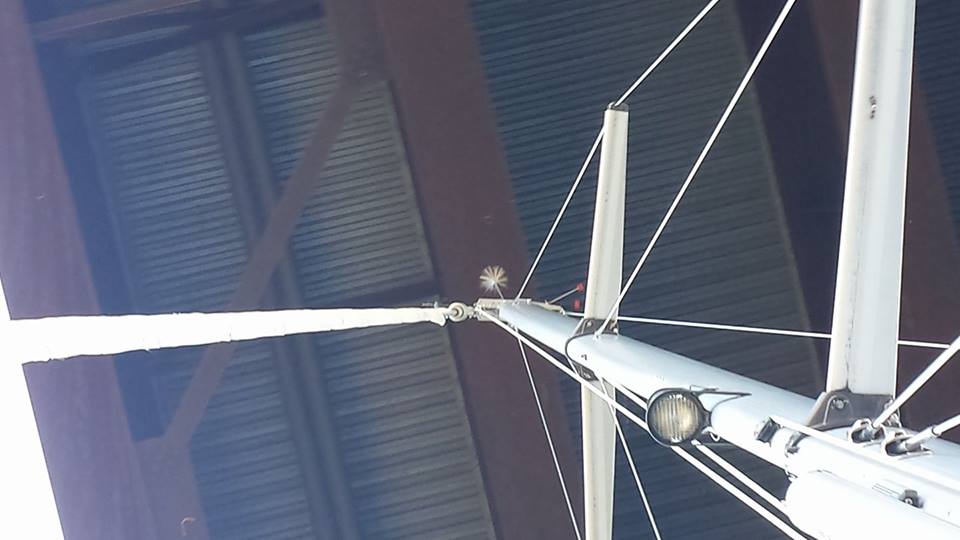 On Thursday, 9/21, we traveled from Catskill, NY, to Kingston, NY, and we went up to the Rondout area. We had to go under a bridge at high tide. Our mast height was 50 feet, and the bridge clearance was 55' at high tide. It sure seemed like our mast was closer to the bridge than 5'. We stayed on the left side of the bridge since there was a higher clearance from the water.
Here is our perspective looking up from the deck of "Reverie":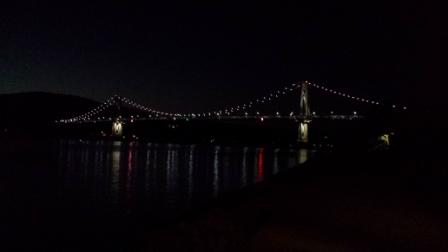 Talk about current and tide when we were docking the boat at the Poughkeepsie, NY marina. The tide/current was flowing North, and the wind was blowing out of the South, so we had a hard time docking the boat from the North to a finger that ran East-West. After we were safely tied up, several other boaters mentioned that they had a very difficult time docking as well.  Many of the nearby boaters helped to pull "Reverie" safely into the dock.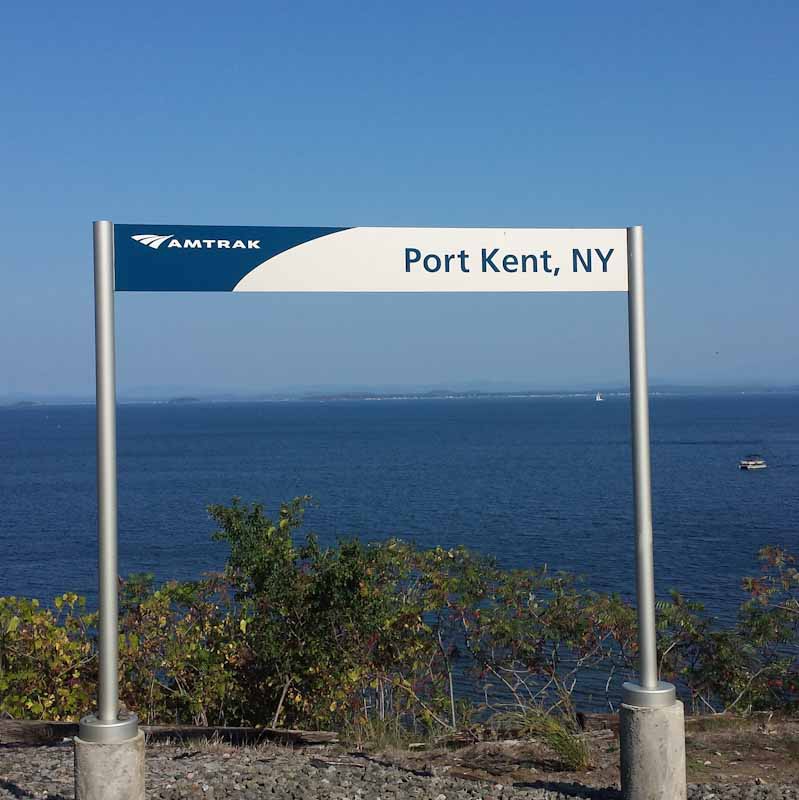 For my return trip, I took the Amtrak Train north from Poughkeepsie, NY, to Port Kent, NY.  I then took the ferry across Lake Champlain to Burlington, VT, where my wife picked me up.  It was nice to be back on the water after spending the day on the train. I enjoyed my trip with Ken and Donna, helping them bring their boat south to their new home.  We had beautiful weather the whole week and were even able to swim in Lake Champlain in late September, which is rare.  I visited with some old friends in Poughkeepsie, NY, so the trip was a huge success.
Please let me know if you have any questions regarding any part of the trip.  I offer a Boat Transport Service if you are looking to have an extra deckhand on board to make a trip like this. Please Email me here.
 Here is what Ken and Donna had to say about our trip:
"In September 2017, Steve crewed on the northern portion of our cruise to move our Catalina 350 from Lake Champlain to Virginia. He came on board in Malletts Bay and stayed until Poughkeepsie, NY on the Hudson River. Having transited the Champlain Canal earlier in the summer, Steve's knowledge of Lake Champlain and the Champlain Canal locks was invaluable. Having lived in upstate NY, his knowledge of that area enhanced our enjoyment of the sights and stops along the way.
While Steve was prepared to "fend for himself," he was very comfortable joining Donna and me as "part of the family," joining us for meals, casual conversation, and touring stops along the way. At one point, he gave us the good advice to focus less on our schedule and the anxiety it was causing and more on relaxing and enjoying this once in a lifetime trip.
It was great having Steve on board, specifically on two occasions; when our engine overheated and when our mast was stepped at Hop-O-Nose Marina. In both, Steve knew what needed to be done to diagnose and complete the necessary work.
Overall, I have no hesitation recommending Steve to others who want an extra set of hands on board for an extended cruise or boat delivery. Not only will you get a good crew member, but you'll probably also become friends."
Check out our Boating Accessories Products web page as well.
Did you like this blog post? Share it below!
Please let us know if you find this post helpful. Contact Us Here if you have any questions.