Eartec SC-1000 Push-To-Talk 2-Way Radio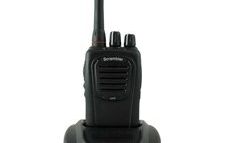 Option Selection:
Eartec SC-1000 Push-To-Talk Radio:
$150.00
The Scrambler SC-1000 is a professional two-way radio designed to provide crystal clear communication for production teams on the move. All SC-1000 transceivers operate in "Simplex" mode which means that when one person in a group transmits, everyone receives the message.  An unlimited number of radios can operate together. This is a Push-To-Talk system.
Professional UHF Transceiver
16 Channel Combinations
38 Privacy Codes Block Interference
Range up to 1 Mile
Rugged Polycarbonate Body
Military Belt Clip
Rechargeable Lithium Battery (continuous 10 hr operation)
Radio comes with a Standup Charger
An unlimited number of radios can operate together
1 Radio needed per person
No FCC license required
System is expandable to as many as required in your group
Scrambler SC-1000 Radio
Standup Charger
Lithium Battery