BOAT WINTERIZING CHECKLIST WE USE ON OUR BOAT
Feb 08, 2019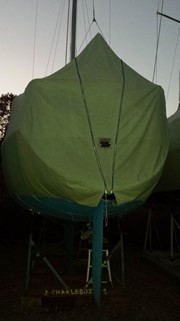 If you live somewhere where you pull your boat in the fall and store it over the winter months, this article is for you.
We live in the Northeastern United States in Vermont and store our boat on the hard from late September through mid-May.
Here are the steps that we follow for Winterizing our boat, S/V "Second Wind," formatted as a useful checklist.
This list will help you develop your personalized checklist for your boat, depending on your equipment.
WINTERIZING CHECKLIST: 
 Pump out the head storage tank
 Remove dinghy Davits
 Remove the anchor and rode from the anchor locker.
 Remove the dodger and bimini as needed.
 Winterize Engine with engine compatible antifreeze:
 Remove the water intake hose on the water impeller.
 Attach a clear hose to the engine fitting
 Put the end of the tube in a Gallon of engine antifreeze and start the engine.
 Ensure antifreeze comes out the engine exhaust thru-hull fitting
 Shut down the engine
 Empty engine freshwater strainer and add antifreeze and flush antifreeze through the hoses
Empty freshwater tanks - check/clean water pump filter first.
Hot water tank:
 Flush out the tank: Connect a freshwater hose to the Pressure Relief Valve and connect a hose to the bottom fitting to flush
 Drain water from the tank:

 Attach 5/8" ID hose (attach to bottom fitting before removing top fitting)
 Use a shut-off valve on the drain line.
 Drain tank into lower storage compartment using a bucket and dump as needed

 Install hot water tank bypass fitting - connects input and output lines on hot water tank together (this saves a lot of antifreeze)
Flush/Pump freshwater antifreeze thru:
 Freshwater lines using water pressure pump - open all faucets and check both the hot and cold sides.
 Icebox/cooler drain hand pump.
 Head and both lines on anti-siphon fitting
 Arid Bilge Vacuum until the antifreeze comes out the thru-hull fitting
 Manual bilge pump & automatic bilge pump until the antifreeze comes out the thru-hull fitting(s)
 Add antifreeze to the bilge
 Remove various items from the boat:
 Brass clock
 Compass - put plastic over the opening.
 Solar panel 
 Sails
 Dodger and Bimini canvas
 Cushions
 Boat grill, cover & tools
 Safety Equipment:

 PFDs / Lifejackets
 Throwable(s)
 Flares
 Life sling/horseshoe throwable
 Fire extinguishers
 Handheld VHF
 Binoculars
Set up winter cover frame:
 Start assembling the frame at the bow.
 Bring up the front cover canvas section before the stern section frame is up.
 Finish stern section frame, bring up stern section cover.
 Install the bow cover section and then the stern cover section
 Tie boom to winter cover frame using sail ties or other short lines
 Fuel tank:
Add diesel/gas stabilizer to the fuel tank - follow instructions on the bottle.
Fill fuel tank - use siphon hose.
 Batteries:
 Charge batteries
Disconnect batteries
Remove batteries and bring them home.
 Ensure all thru-hulls are in the open position
 Set up Damp-Rid devices throughout the boat to prevent mold and remove moisture
 Below are some pictures showing some of the above steps: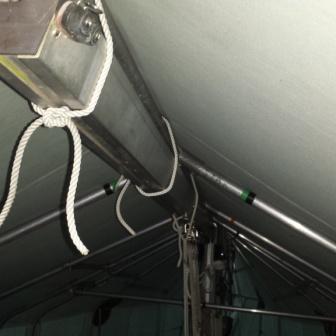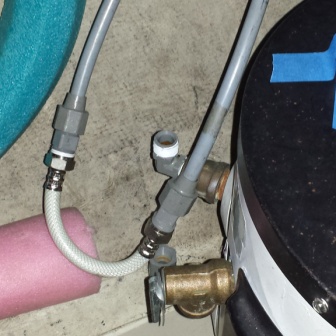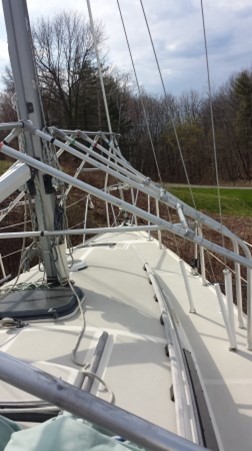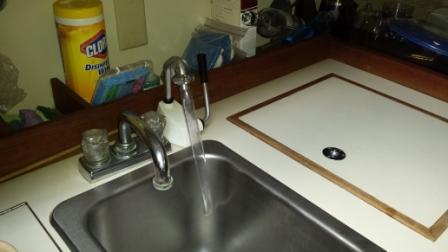 You may have other work items for your boat, depending on the different systems and electronics that you have. This list should give you a good starting point for winterizing your boat.
Please comment on this blog below if you have other things that you do to your boat for winter storage, or you can shoot me an email at Steve@seadogboatingsolutions.com
Did you like this blog post? Share it below!
Please let us know if you find this post helpful. Contact Us Here if you have any questions.