HOW TO GET A BETTER NIGHT'S SLEEP ON YOUR BOAT
Oct 30, 2020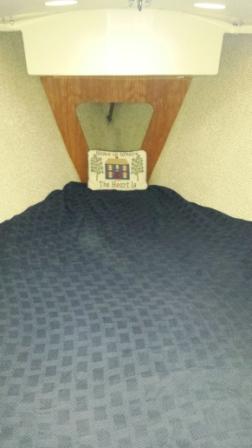 We all know how important it is to get a good night's sleep on the boat. If we don't sleep well, bad things can and do happen. We have been looking to improve our V-Berth sleeping setup for a few years now.
Our V-Berth has three cushions and comprises two longer ones with a small cut out near the V-Berth's widest part. Our cushions are pretty soft, and having the seams between the cushions was never very comfortable. I would wake up in the morning with lower back pain and sore spots on my hips and shoulders.
We started looking at various options, including:
Having a custom mattress made for our V-Berth
Replacing the foam in our existing three-cushion setup or having just one cushion made for the V-Berth
Getting a topper for our existing setup
We began the process by looking into having a custom mattress made and talked to folks at various boat shows. We quickly learned how expensive these custom mattresses were. We looked into having the foam replaced in our existing three-cushion setup. We also considered replacing the three cushions with just one cushion made to fit our V-Berth to eliminate any seams. We also investigated having a topper made for our V-Berth to go over our existing cushions and eliminate the seams. The decision was overwhelming because of the many foam types and firmness levels.  My concern was that it was hard to tell how the mattress would feel on our boat after lying on so many of them at a boat show.
While doing all of this research, I stumbled upon an article called Review of the Froli Modular Sleep System on the Truck Camper Adventure website. It talked about getting a good night's sleep in a truck camper and what their solution was. I was very impressed by the adjustable design choices of the Froli Sleep System and the feature of allowing air to get under the mattress to prevent mold. The Froli Sleep System is imported from Germany into the United States. There are three different sleep systems (Travel, the Star, and the Zona) available from Froli. I contacted Elke Nickle at the company Froli Systems by Niclke Atlantic, LLC. Elke answered all of my questions, and we discussed our specific needs and V-Berth measurements. She sent me a V-Berth template showing me the number of adjustable springs I would need to cover our V-Berth. You can use the Froli Sleep System on a boat, camper, RV, camp/cottage, or even at home.
We decided to order the Froli Sleep System using the Star System. We also ordered a topper mattress from Shelley Foord at Anchors Away Custom Boat Bedding, who we met at the 2020 Toronto International Boat Show. We figured that the Froli Sleep System would give us additional support for our cushions, get us off the V-Berth's hard platform, and provide airflow underneath the cushions. The topper would add extra comfort and prevent feeling the seams in our existing cushions.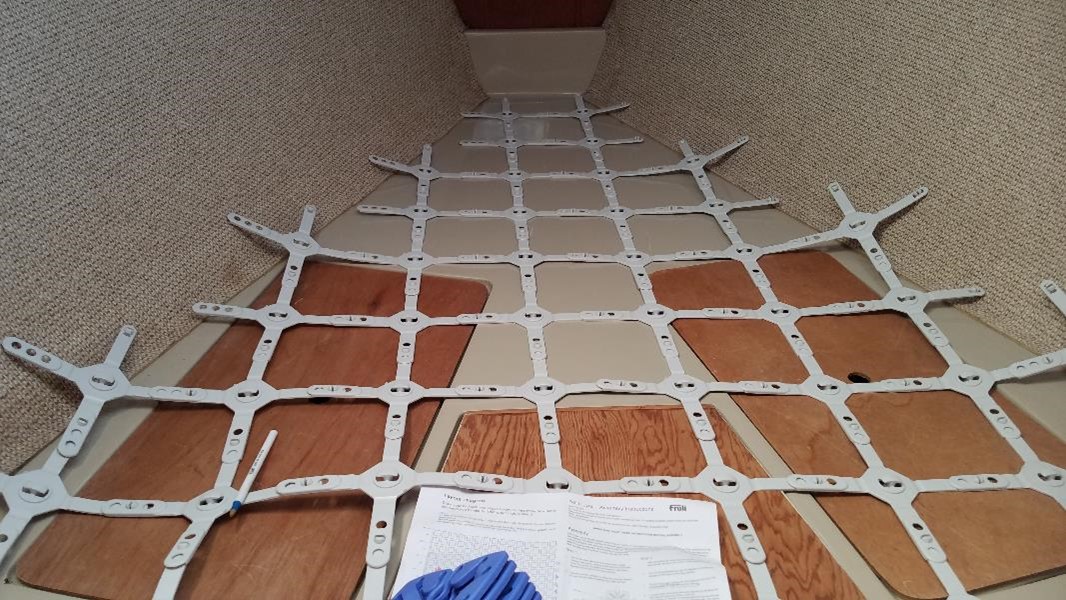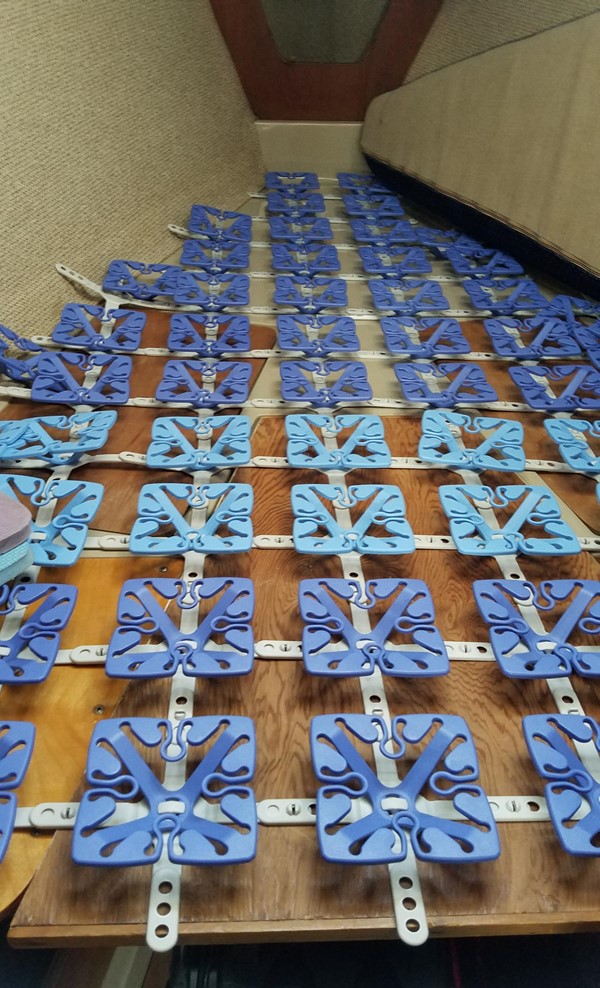 The installation of the Froli Sleep System was quick and easy. I connected each spring base to the adjacent spring base by snapping together the springs' base, using my fingers, at the desired spacing distance. There are three location options to snap the bases together, giving you a different amount of support. The closer the springs are together, the firmer the support that you get. Once I had all of the spring bases laid out, I added the spings themselves by attaching the spring and turning it 90 degrees. The springs are color-coded and provide a different level of firmness. The dark blue springs provide firmer support; the light blue springs provide softer support. There are also a set of red four-leaf "clover" tension clips that can give even more firmness in certain areas if desired. You can customize one side of the setup to the sleeper's wishes. You can trim the spring base on one side if needed along the outside of your sleeping area to customize the spring layout to fit your available sleeping area which is convenient on a boat which has a curved V-Berth area.
After I had the Froli Sleep System installed, I tried our three V-Berth cushions on the system, and I was extremely impressed. Our cushions instantly felt firmer, and the V-Berth "mattress" had a nice supportive feel to it. I knew I had made the right decision about purchasing the Froli system, which by the way, was one of the least expensive upgrades we have purchased for our sailboat over the years. We bought the Froli STAR Single Bed Kit plus six (6) Froli STAR soft (light blue) elements, plus two (2) Froli STAR regular (dark blue) elements for $227.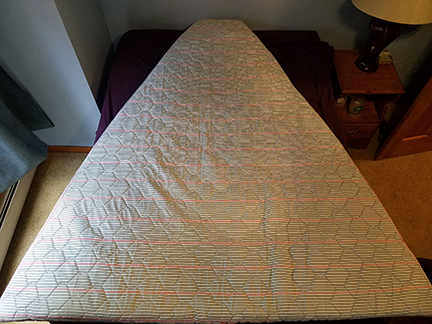 We created a template with plastic for our topper mattress and mailed it to Shelley Foord in Canada, and she quickly made our two-inch thick high-density medium-firm topper mattress for us. The most challenging part was figuring out an economical way to get the topper shipped to us from the Toronto, Ontario Canada area to us in Vermont. The border between the United States and Canada was closed because of the Covid-19 pandemic. I researched mail forwarders and found a Toronto company that brought packages over to Niagara Falls, New York, and delivered them to a UPS location. UPS then shipped the package to us in Vermont. We saved about $150 by using the mail forwarder. The company that we used was called CBP (Cross Border Packages). Shelley was kind enough to drop off our topper at the Cross Border Packages location in Toronto.
We are delighted with both the Froli Sleep System and the topper mattress we purchased for our V-Berth. We enjoyed much more restful sleep on our sailboat all summer. My only regret is I wish I had done this sooner.
Did you like this blog post? Please share it below!
We would love to hear your feedback. Contact Us Here if you have any questions.