ARE YOU LOOKING FOR AN OVEN FOR YOUR BOAT, CAMPER OR RV?
Sep 24, 2013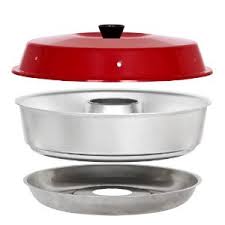 Our sailboat doesn't have an oven.  It only has an alcohol stove in the cabin, and we have a barbecue grill in the cockpit. Have you ever wished you could bake something on your boat or even reheat a meal in your oven?
I have found a fantastic new product called the Omnia Stove Top Oven that allows you to cook and bake items on a grill, stovetop, alcohol stove, gas or propane stove, and even an electric hot plate. It is a great way to have an oven without the expense of installing a full oven. You can find more information regarding the Omnia Stove Top Oven and the Omnia Oven accessories.

Product Features:
Bake pizza, brownies, cakes, bread, casseroles, and more on the stovetop!

Designed to bake on any type of burner.

Food has the same texture as when baked in a conventional oven.

Steam vents in the lid ensure that bread and cakes aren't soggy.

The oven holds as much as an 8-inch square baking pan.

Easy to store and use.

Nothing to install and way cheaper than buying a new stove with an oven!

Weight: 0.5 kg

Material: Aluminum baking pot and lid with a treated steel base plate

Comes with: Pot, lid, plate, cookbook, and storage bag
Please let me know if you have any questions.  I have baked biscuits and scones with this oven and love it.  It allows us to bake items on our boat where we could only use our alcohol stove or barbecue grill for cooking. This stovetop oven now gives us the option to bake, which is a great way to expand our boat's culinary options.
This oven would be great for camping as well.  You could use this oven in your camper or your RV.
Are you looking for recipes for the Omnia oven, check out our Resources web page.
Did you like this blog post? Share it below!