Thermometer for Omnia Stove Top Oven or any boat or RV oven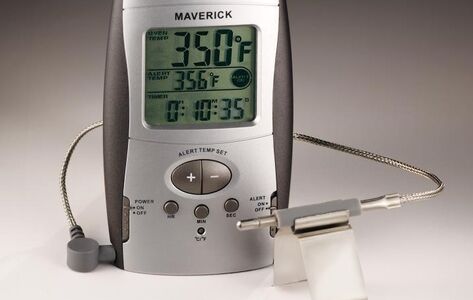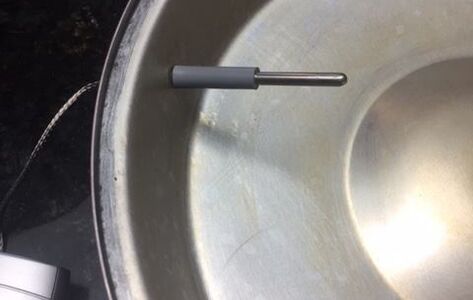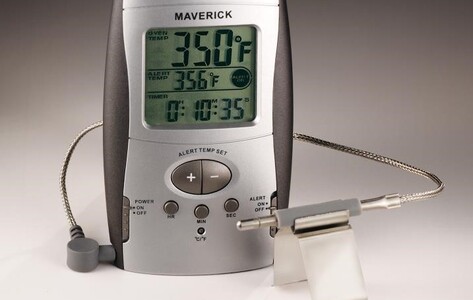 Option Selection:
This thermometer is ideal for working with the Omnia Stove Top Oven and inserts into any of the Omnia red cover vent holes, which allows you to monitor the temperature within the oven. There is no more guessing what setting you should use on your gas stove, alcohol stove, electric stove, hotplate, or even your grill with the thermometer. This thermometer will allow you to monitor the oven temperature inside the oven, and you can adjust your heat source as needed to get the desired temperature inside the oven. 
This thermometer can be used with other types of ovens, such as the Force 10 oven and barbeques or grills. If your boat or RV oven doesn't have a thermometer, this is a perfect solution to allow you to monitor your oven temperature and adjust your oven setting.
Check out the Thermometer review by Carolyn at The Boat Galley
Note to Omnia Oven Users: Slide the grey sleeve off the temperature probe, insert the temperature probe through one of the Omnia Oven Cover (red) vent holes, and slide the grey sleeve back onto the temperature probe.  Please see the second picture.
Check out the new Silicone Liner for use with the Omnia Stove Top Oven.
If you are looking for a more extensive cookbook to go along with your Omnia Stove Top Oven, check out The Boat Galley Cookbook
Here are some additional Omnia Stove Top Oven recipes found on the Sea Salt Galley Kat website
You can also use the Search Site Bar (top right corner) and search on "Omnia recipe" to locate some Blog articles on the Omnia Stove Top Oven.
This thermometer is a must for the gas grill.  The Maverick DIGITAL THERMOMETER lets you know the constant average temperature inside your barbeque throughout the cooking process.  What's more, it recalculates this average every 10 seconds and compares it to the temperature target you have preset. It then alerts you if the temperature swings more than 15°F (9°C) above or below your target temperature. It updates this average every 10 seconds.
English/French language Instructions
Fahrenheit or Celsius temperature settings
Digital Barbeque/Grill Thermometer
Digital LCD shows elapsed cooking time, your choice of target temperature, and constant average actual temperature from 122°F–572°F (50°C–300°C)
The average temperature is updated every 10 seconds
Set a temperature target, and the unit will alert you if the temperature swings more than 15°F (9°C)
High Heat Probe and Wire Withstands up to 700°F (371°C)
Probe wire length is 42 inches long
Detachable stand for countertop use, hanging bracket for wall, and magnets for metal surfaces;
Single AAA battery included
20-hour count-up or count-down timer
Display Unit
AAA battery
Temperature probe with wire length = 42 inches.
Probe stand for inside the oven
Hanging bracket for wall
Magnets on the back of Display Unit for sticking to metal surfaces