Starboard Collection Carina Bowl Set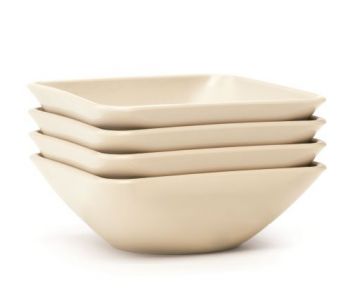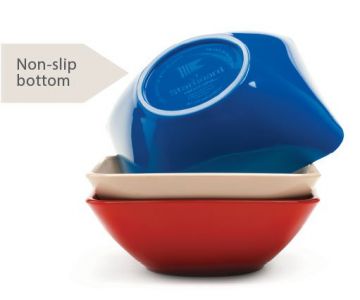 Option Selection:
Carina Bowl Set of 4 (Canvas):
$24.99
Retail Price: $44.00
Dishes designed for boating that can also be used for camping, RVing, picnics, dining outside and apartment living.
This versatile bowl set stacks and stores neatly in the galley. Each bowl is large enough to hold breakfast cereal, lunch time soup, a dinner salad or anything in between. 
Inventory: 2 Canvas Sets (i.e. off white - as of 12/04/2018) 
Shipping: We ship the Starboard Collection Carina dishes outside the United States. Taxes or Custom Fees/Duty are the responsibility of the purchaser.
Outside Dimensions: 6 1/16" X 6 1/16" 
Stacked Height for 4 bowls: 4"
STAY PUT DESIGN: 

"A plate can't be a bowl...but a bowl can be a plate" -- All serving and dining pieces are bowl shaped allowing your food to stay in its place even when dining in motion

NON-SLIP: 

Silicone bases on the bottom of every piece grip the table and prevent slipping & sliding

SAFE: 

BPA free, no phthalates, melamine free and lead free. FDA-approved food safe.

STACKABLE: 

Saves storage space by stacking together neatly and efficiently

SMART STORAGE: 

Round plates leave lots of wasted space in the cabinet but the "squared-off" shape means plates can nestle next to bowls maximizing every inch of precious storage space

SHATTERPROOF: 

Accidents happen …. and dishes get dropped. Manufactured from a special grade of polypropylene, so that even if your food lands on the floor, your plate or bowl is still in one piece

ENVIRONMENTALLY FRIENDLY: 

Made with recycled plastic, and 100% recyclable at the end of its long life

EASY TO CLEAN: 

Top rack dishwasher safe

MICROWAVE SAFE: 

Products can be safely used in a microwave for reheating food. Recommended that you avoid heating heavily oiled foods or tomato products at high temperatures, as that may lead to staining or deterioration of the surface

MADE IN THE USA: 

Designed, manufactured and assembled here in the United States. Really proud of this, as well as the additional jobs this creates here at home!