2Talk Bluetooth Intercom Headsets My Team Talks (pair)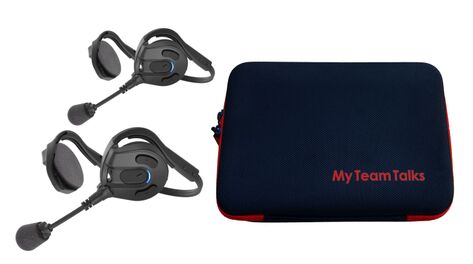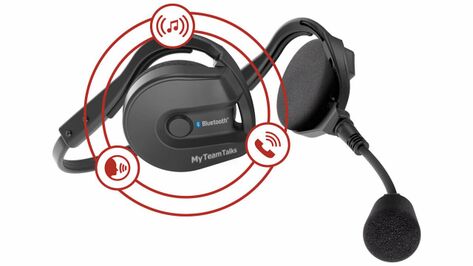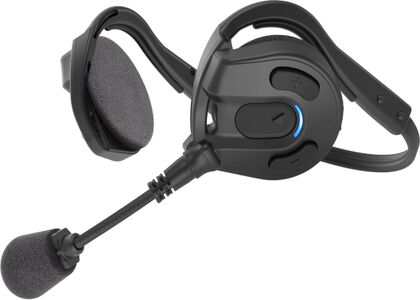 Option Selection:
2Talk My Team Talks Headset System:
$299.95
Retail Price: $319.00 (pair of headsets + storage case)
Full-Duplex 2Talk My Team Talks 2-Way Headset System
The next generation of onboard communications is now available with the 2Talk My Team Talks Bluetooth headset system. This system supports full-duplex communication for up to 4 people (using the intercom mode feature). The 2Talk headsets can be paired with the Sena Expand or Sena SPH10 headsets.
Your cell phone, GPS, or MP3 player can connect to the 2Talk My Team Talks headsets via Bluetooth. 
The 2Talk headsets feature a new lightweight and water-resistant design with a boom mic, available only from My Team Talks. The 2Talk headset has the same electronics and control buttons as the Sena Expand headset, but the difference is that the 2Talk headset has the boom microphone. In contrast, the Expand headset has a jawline microphone.
These new headsets represent a quantum leap in technology with noise-canceling receivers and full voice-controlled operation. These headsets are perfect for onboard crew coordination. Having a communication system onboard is often referred to as "Marriage Savers."
These headsets are also great for other applications like:
Cycling

Hiking

Kayaking

Canoeing

Parking your RV

Full multiplex conferencing (up to 4 team members)
There is no competitive product offering comparable value with all of these features.
NOTE: Two (2) headsets are included for a 2-Way system as well as a hard, water-resistant storage case.
 My Team Talks 2Talk Quick Start Instructions
If you have questions about the 2Talk My Team Talks headsets, check out the Boating Communication Systems Comparison Blog Article.
Shipping: We ship the 2Talk My Team Talks Headset System outside the United States. Taxes or Custom Fees/Duties are the responsibility of the purchaser.
International Shipping (Outside the United States):
USPS First-Class Package International Service

- Shipping time: 10-15 Business Days



USPS Priority Mail International

- Shipping time: 7-10 Business Days

NOTE:

The above shipping times depend on how long it takes to get through customs or delays in paying the Taxes or Custom Fees/Duties that might be due on the merchandise.
Completely wireless (no cumbersome antenna or belt-pack)
Full multiplex communication (up to 4-person team conferencing)
It can be paired with the Sena Expand or Sena SPH10 headsets
Full-time communication (no voice activation delay or push-to-talk buttons)
No cell signal needed
Hands-free private digital communication (including voice-control cell phone operation)
Answer, dial, share or reject cell-phone conversations
Battery:

Rechargeable Lithium polymer battery
10-Hour Talk Time, seven days standby
Charging time: 2.5 hours

Bluetooth 3.0 transmissions (eliminate interference from other headsets)
Water-resistant
Range up to 800 meters/875 yards (line of sight)
Lightweight, Comfortable, Secure over-the-ear design, attractive appearance
The headset band goes behind your head to prevent it from falling off
Easy programming and operation
Warranty Information
Links with other Bluetooth devices such as smartphones, MP3 players, GPS guidance, other headsets, etc.
MESH network capability and 2-way radio communication using optional accessories.
Two (2) 2Talk My Team Talks Headsets.

Built-In Boom Microphone located on the left earpiece
USB Power & Data Cable (Micro USB)
Spare Set of Foam Ear Piece Pads and Foam Microphone Cover

Quick Start Instruction Manual
Hard Water-Resistant Storage Case